A good stress relieving herbal tea seems to be hard to find these days. Therefore, we've compiled the 5 best stress relief herbal teas on the market. These herbal wonders can help calm nerves, relax the body, and even have a good sleep. If you're looking for a quick guide that shows you the best stress relief herbal teas, you're in the right place.
So without further ado, let's dive in!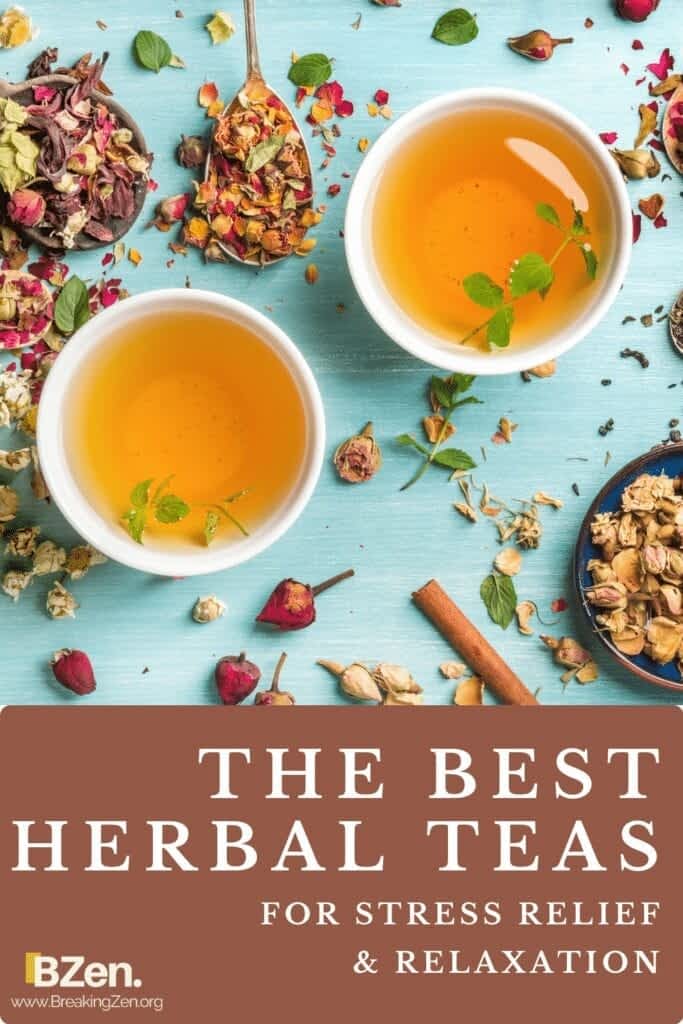 ---
5 Best Stress Relief Herbal Teas
There are a lot of herbal teas on the market that claim to reduce stress. To ward off the confusion, I've compiled a list with some of the best herbal teas that can actually alleviate your stress.
Let's have a brief look at each one of them.
Kicking off the list with one of the best herbal teas that deserve more recognition. Blue eyes herbal tea is made of a blend of herbs and flower petals that gives it a distinct taste and visual appeal.
The reason behind its name is the presence of the cornflower petals in the blend that give a nice splash of blue.
The blend includes special ingredients like hibiscus petals and rosehip chips. These ingredients have a soothing and relaxing effect. According to some studies, hibiscus decreased the time needed for test subjects to sleep.
Additionally, blue eyes herbal tea is caffeine-free, so you don't have to worry about the presence of any alerting compounds in your tea.
In addition to these ingredients, it also contains dried sweet orange peels, which gives it a unique taste.
Best Features
Excellent taste with honey
Shortens the onset time of sleeping
Visually appealing colors
---
Despite being a bit pricey, Ho Yan Hor is one of the most successful names in the herbal tea industry. The Chinese herbal has been a heritage since 1941 when it was first discovered.
Ho Yan Hor contains a blend of 29 herbs that are handpicked and selected from old Traditional Chinese Medicinal books. These herbs are dried and blended with a small amount of premium black tea.
The herbal tea is popular for its soothing and calming effects. Also, a lot of users claim that it fights common cold and flu symptoms by enhancing the immune system and releasing internal heat.
Best Features
Based on Traditional Chinese Medicinal herbs
Helps in indigestion
Fights cold and flu symptoms
---
Hemp tea is one of the rising stars in the herbal tea industry. Hemp tea is made of the dried leaves and flowers of the hemp plant, also known as "Cannabis Sativa". This herbal tea has a decent amount of Cannabidiol (CBD), which is the active ingredient in hemp teas.
You can read more about hemp tea and the benefits of CBD HERE.
However, you should know that hemp tea isn't psychoactive. In other words, it will only bring all the benefits of CBD. The tea is an excellent remedy for anxiety and drinking it gives you a great sense of calmness.
Best Features
Available in different flavors
Helps with anxiety
Contains antioxidants
---
If you're into herbal teas, you'll definitely come across some Traditional Medicinals products. The company specializes in all kinds of herbal drinks, including the exotic ones as well.
Chamomile and lavender are among the most popular ingredients that actually help in achieving better sleep time and relaxation. In fact, a lot of users claim that chamomile is great for all kinds of anxiety, including social anxiety.
Lavender is also popular for its soothing effect even when inhaled, which is why it's a popular ingredient in aromatherapy.
What's great about Traditional Medicinals is that its products are non-genetically modified organisms (non-GMO).
Best Features
Ideal for stress
non-GMO verified
Available in different sizes.
---
Last but not least, the Republic of Tea is one of the best tasting herbal teas on the market if you're into the floral taste. Yet, if you don't fancy this flavor, you might want to try it for its aromatherapeutic effects.
It has a wonderful blend of lavender, chamomile, and passionflower. These ingredients are great at relaxing the mine without making you dizzy. That's why you can drink in the morning as well.
The blend also has a tinge of rooibos, which has some sweetness that adds to the final taste of the tea.
Best Features
A unique blend of ingredients
Doubles as aromatherapeutic tea
Can be used in the morning
---
More articles you may enjoy:
---
How to Prepare the Herbal Tea
Preparing a good cup of herbal tea isn't difficult. While each product has some slight differences, here's the general way of steeping the tea to make the most of it.
Hot Method
The most commonly used method is the hot method. Here, you add your ideal serving of the herbs into a teapot. Next, add boiling water and let the blend steep for about 10 minutes. Finally, pour the tea filtered into your cup and add honey to taste.
Ice Brewing Method
A rare method to try is the ice brewing method. Unlike hot brewing, you make a larger patch. Ideally, you add 10 servings to a teapot and pour half amount of boiling water on it.
After 10 to 15 minutes, add the other half of water to stop the brewing process. Filter the tea and add honey and ice. Note that this method is ideal for hemp and blue eyes herbal teas.
Wrap Up
There you have it. The best stress relief herbal teas on the market!
[the_ad id='29594′]
In my opinion, I pick the Traditional Medicinals Chamomile with Lavender Herbal Tea as the winner for this round. However, if you're looking for a unique experience that also doubles as a remedy for the common cold, Hibiscus Blue Eyes Herbal Tea is your way to go!