Approximately 75% of people who set fitness goals quit.  Crazy, right?! I know I have been part of this 75% many times. In fact, four years ago I bought the Insanity Max 30 DVD set. I only made it four days (out of 60) before completely giving up. Bottom line, the program was too hard for me to sustain. I was doomed from the start, because I didn't take the time to set smart fitness goals.
SO many people have similar stories to my own. They get super excited to make positive changes in their lives. Which is AWESOME! But where they go wrong is that they end up setting unreasonable goals. This sets them up for failure from the very beginning.
Smart Fitness Goal Setting Tips
There is good news. We asked a personal trainer how you can set yourself up the right way. Follow these six tips for setting smart fitness goals you can (and will) exceed!
Brittany is the owner of Total Fit Club and ACE Certified Personal Trainer.  Brittany also has a Master of Science in Health Management and is a NASM Youth Exercise Specialist. Find out more at www.totalfitclub.com
Tip 1: Set Reasonable Goals
When starting a workout program, an essential first step is to set reasonable, smart fitness goals. 
As a personal trainer, the biggest mistake I see people make when starting a new program is doing too much too fast.  Clients who go from 0 to 100 overnight. This not only puts them at risk for injury, it also lowers their chance of succeeding long-term. 
Why?  
When clients start too fast they get outrageously sore muscles and become overtired. They end up DREADING their workouts because they are so difficult.  And when these unrealistic goals are set but not met, they feel defeated from the very beginning.  
That is no way to start a program! Learn from those before you and don't be afraid to start at a comfortable pace. 
Remember – if you enjoy your exercise program, you are more likely to succeed.  And if you have the energy to complete your workouts, you are also more likely to succeed.  
Setting realistic fitness goals sets you up the right way. It enables you to maintain a positive attitude throughout your program. And it leaves you feeling accomplished and confident. These critical components give you the motivation to keep moving forward!
Get Fit, Save Time, Save Money – and No Intimidation with Bulldog Yoga Online!
Tip 2: Remember, Short-Term Smart Fitness Goals Add Up
Instinctively, clients jump to creating large goals such as "lose 50 pounds" or "workout 7 days per week."
While it's okay to dream big, I recommend clients work to break down their large goals into smaller ones.  Then, as they move through the workout program, the small goals build upon each other. As the weeks and months pass, the small goals add up to help them reach their larger goal. 
Using the example from above, let's think about the goal "workout 7 days per week." For a client who does not exercise, moving from 0 workouts per week to 7 workouts per week is a big jump. 
So, consider starting with a more manageable smart fitness goal. For example, "exercise 3 times per week for 2 weeks."  Then, if you achieve this goal, move to "exercise 4 times per week for 2 weeks."  By the end of week 10, you've achieved your larger goal to exercise daily!  
This gradual progression is less overwhelming and has several benefits.  It helps you safely progress and it turns working out into a habit. And most importantly, it makes your goals attainable!
Tip 3: Use Metrics Other Than Weight
We strongly encourage our clients to set smart fitness goals that are NOT focused on tracking weight. 
This is important because when you start a new program you will likely lose fat and gain muscle. This changes the composition of your body.  Your percent of fat decreases and your lean muscle mass increases. The muscle you gain is denser and takes up less space in your body than fat does.  So, you may be smaller in size, but your weight may not change.  In fact, there is a chance you may actually gain weight.  
If this happens – don't freak out!  Increased muscle means you are getting healthier and stronger.  With a consistent workout program and healthy eating, you will be making progress. 
For these reasons, if your fitness goal is to "lose weight" we recommend choosing a metric that doesn't focus on the scale. The best way to do this is to take body measurements. These types of measurements may include waist, hips, shoulders, biceps, neck, and thighs. There are many apps that help you track this. Our app incorporates this feature, and there are several other options out there as well! You can find out more about
If you are trying to gain muscle mass, the same applies. We recommend tracking measurements such as bicep, neck, and thigh.
A couple of tips for taking body measurements:
Take measurements at the same time each day. We recommend doing this as soon as you wake up in the morning.
Buy a flexible tape measure like this one (rather than a rigid one) to get the most accurate results.
Use "landmarks" so you measure the same spot each time. For example, when I measure my waist I line up the bottom part of the tape with the top of my belly button. 
Resist the urge to measure daily or weekly. Only measure once or twice per month, as changes take time!
Remember, changes in body composition can be slow, so be patient. Trust yourself and stick to your program closely for optimal results. It will all be worth it in the end! 
Tip 4: Use Positive Language when Setting Smart Fitness Goals
Working out is hard.  And sticking to a program is even harder. BUT I know that you can be successful. And I hope you know this too. 
It is easy to slip into self-doubt, negativity, and begin making excuses.  So, resist this urge from the beginning and make your best effort to remain positive each and every day.  Keep looking forward. Remind yourself you CAN and you WILL create healthy habits that will last a lifetime!  
To maintain positivity, you need positive goals.  By positive goals, I mean goals that are worded in a positive way. Here are some examples of how to turn negative goals into positive ones:
| | |
| --- | --- |
| X | ✓  |
| Don't miss a workout | Workout 3 times per week for 2 months |
| Don't eat out | Cook at home 5 nights/week for 4 weeks |
| No walking during my upcoming 5k | Run the full 5k race  |
Tip 5: Create Visual Reminders
Sticking to a workout program is HARD. The good news is, there are some really simple ways you can help yourself stay on track. I call these visual cues. 
Cues are valuable when setting smart fitness goals as they help you stay accountable and focused.  I use these every day in my own practice. The little changes go a long way! Here are some of my favorites:
Top visual cue ideas
If you are having trouble adhering to your program, know you are not alone.  Adherence is one of the most difficult parts of any training program.  Visual cues can be an effective tool to help keep you on track.
Post a workout calendar in your home – feel accomplished each time you cross off a completed workout!
Create a vision board to hang in your bedroom – remind yourself each morning what you're working towards.
Place your workout bag in the front seat of your car – so there are no excuses not to go!
If you're getting healthier to be there for your kids – put a picture on your desk at work.
Block off scheduled time to workout. Use the calendar on your phone or use a planner to build in time for the things that are most important to you.  
Write sticky notes back and forth to your spouse with encouraging words. For example, place a positive message on the bathroom mirror or in your spouses lunchbox for a little extra motivation!
Tip 6: Revisit Your Smart Fitness Goals
While goal setting is important, don't stress over it too much.  It takes practice. So don't be afraid to just pick a goal and try it out!  You can always change it up later.  
In fact, changing your fitness goals mid-program is often necessary.  You may start a program thinking you know EXACTLY what you're trying to achieve.  But two months in you may find your training going in a different direction.  This is completely normal – and exciting!  Go with it.  Be flexible, maintain variety in your program… and always remember to have FUN!
Start Bulldog Online Yoga's Home Workouts Today with a 30-Day Free Trial!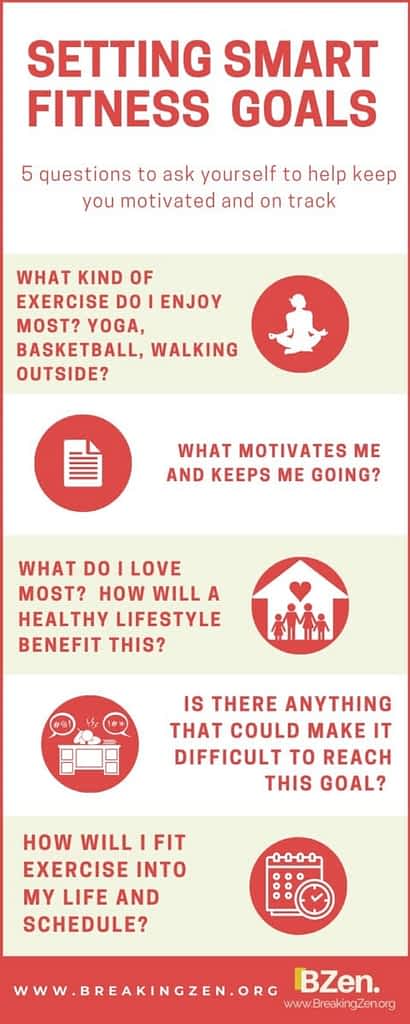 Ready to get started and set some new fitness goals? Here are a few things to ask yourself as you get started:
What kind of exercise do I enjoy most? Yoga, basketball, walking outside?
What motivates me and keeps me going?
What do I love most?  How will a healthy lifestyle benefit this? 
Is there anything that could make it difficult to reach this goal?  For example, upcoming travel plans, work schedules, etc.  If so, how can I plan ahead?!
How will I fit exercise into my life and schedule?