Brittany is the owner of Total Fit Club and ACE Certified Personal Trainer.  Brittany also has a Master of Science in Health Management and is a NASM Youth Exercise Specialist. Find out more at www.totalfitclub.com

About the author
As an online personal trainer, I provide my clients with home workouts they can complete with little to no gym equipment. I actually canceled my own gym membership about a year ago, even before most gyms closed to COVID-19.  So I can promise you it is possible to complete effective workouts from home. In fact, your bodyweight is all you need to get in a good workout. While you don't NEED equipment, having some home gym essentials can make workouts a bit more fun.  Basic equipment also expands the number of exercises you can complete.  And it's even possible to build a compact home gym on a budget.  Here are a few of my favorites!
---
---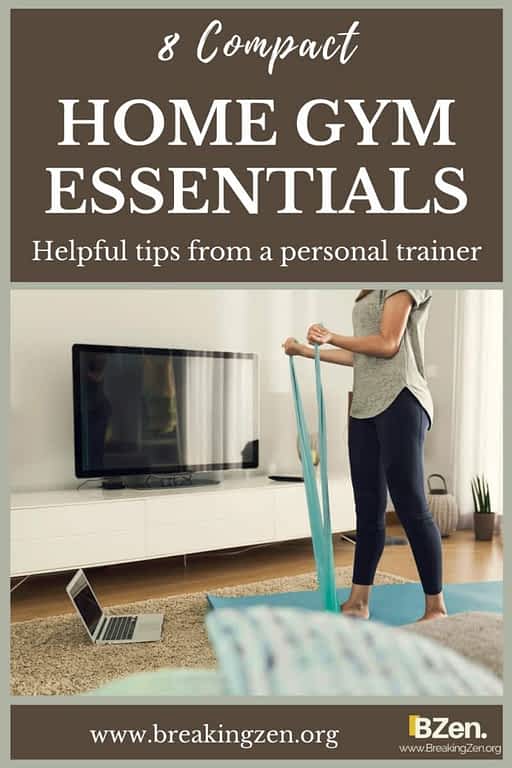 Starting Essentials of a Home Gym
If you are starting out or are on a tight budget, consider this compact "home workout kit." This will set you up with the best home gym for small space and will give you MANY more exercises to complete!
​1.  Resistance Band Set
An absolute essential for any home gym! In fact, at Total Fit Club this is the only piece of workout equipment we require our clients to invest in. We chose this piece of equipment because it is an awesome alternative to expensive weights. 
With resistance bands, you can expand the number of exercises you can complete at home. They are also super easy to transport. You can even take them with you when you are traveling so you stay in a consistent workout routine! 
Make sure the resistance band set you buy comes with attachments. Two handles, ankle band, and a door jam enable you to get the most out of your new set. 
If you only have the budget to buy one piece of equipment today, this is it! Improve your strength with some added resistance. 
Example Exercises: 
Bicep curls, overhead press, chest press, chest fly, tricep extensions, rows, squats,  calf raises
2. Exercise (Stability) Ball
Another one of our favorites, the exercise ball is very diverse. This is a close second for us, as it also provides many new exercises you can complete at home. 
If you buy a stability ball, make sure you have a way to inflate it! Read the product description to see if it comes with a hand pump or see if you need to buy it separately. Air compressors work great to inflate them too, if you happen to already have one!
Example Exercises:
Crunches, glute bridge, hamstring roll in, incline/decline push-ups, planks
3. Jump Rope
This is my FAVORITE piece of inexpensive, compact home gym cardio equipment. When it's too hot or too cold outside to go for a walk or run, jumping rope is a great way to get your heart rate up. 
In addition to jumping rope, you can also stretch it out to create a straight line on the floor for agility drills. These exercises are especially great if you are an athlete or training for a sporting event! Increase your speed and cardio with a variety of agility drills, as you would with an agility ladder. 
If you have a bit more to spend, I highly recommend adding free weights to your home gym.
4. Dumbbells 
Dumbbells are great for improving strength and diversifying your workouts. 
There are many great exercises you can add to your workout routine with these compact home gym essentials. Try bicep curls, military press, flys, weighted lunges/squats, calf raises, and so much more. As your strength improves, you can increase dumbbell weight and track your progress. This is one thing my online clients LOVE! Check our our online training programs here. Our app allows clients to see progress each day, providing motivation and accountability. 
When purchasing dumbbells, consider buying one pair each month to build your set! For my own workouts, I use 5 lb to 25 lb sets. Most of my clients end up with 5 lb, 10 lb, and 15 lb sets. But this will vary depending on your fitness level, physique, and goals. 
Pro Tip: When buying dumbbells online, make sure to check if they are being sold per dumbbell or as a set. Some come in pairs and others are individually sold. You can also consider checking out second hand stores deals. You may be able to find gently used dumbbells for around $1 per pound.
More Content You Might Like
---
---
Home Gym Essentials Bonus Items
Once you've built out your home gym essentials with the items above, consider adding a few more pieces of equipment! Below are a few of my go-tos. 
5. Yoga Mat
Another great icomtem to consider adding to your home gym essentials is a yoga mat. While you can use an open carpeted area when working out at home, using a yoga mat is ideal. It gives extra cushion so you can complete exercises more comfortably. And it provides a dedicated workout space you can wipe down after use (so you don't get your carpet sweaty!). 
When purchasing a yoga mat, make sure to check the dimensions. This yoga mat is my absolute favorite, as it is extra long to provide ample space for core work. And it is also more than twice as thick as some of the lower quality mats on the market. 
---
---
Example Exercises:
Push ups, planks, core work, and flexibility  
Pro Tip: Make sure to roll it up and store in a safe place post-workout. Cats and dogs love to scratch these up! 🙂
6. Exercise Step
Another awesome addition to any home gym essentials list is an exercise step. Exercise steps and benches are incredibly diverse.  It is a great stationary alternative to propping your hands or feet up on a chair!  You can also use it for cardio – stepping up and down or jumping up and over. 
There are many types of benches and steps. Some are flat, others have a cushion, and you can also get adjustable versions.
Example Exercises: 
Calf raises, incline push-ups, decline push-ups, bench dips, dumbbell chest press, tricep kickbacks 
Pro Tip: Benches and steps are larger than the other pieces of equipment on our list. Before purchasing make sure you have space to store it. 
For greatest functionality, I highly recommend the Escape Fitness Deck – Workout Bench and Fitness station. While more expensive, adjusts both height and incline. Use it for dumbbell work  or as a step for cardio exercises. In addition, the bench features built in holes for resistance bands. This is one of my personal favorites in my home gym! But as a note, this bench is not cushioned (it doubles as a step), and the bench may be too short for tall clients. 
7. Foam Roller
Most of the items on this list are to help you with strength training. And while strength training is super important, don't forget to incorporate stretching!
Foam rolling (or myofascial release)  is a type of stretching that has become quite popular. It can help loosen tight muscles and can also help with muscle soreness. 
Check out our stretching blog post for more on foam rolling and stretching.
8. Water Bottle
Last but not least, every home gym essentials list needs a great water bottle!  It is very important to have water with you for every workout.  Staying hydrated helps keeps you healthy and safe!
In my house, we try to limit the amount of plastic and chemicals we use. But it can be difficult to find reasonably priced glass and stainless steel products. 
I use this stainless steel water bottle. It is durable and mine hasn't leaked at all so far. I use it all the time at home, work, and in the gym. 
Home Gym Essentials – What's next?
Building a compact home gym with a few essentials is xciting because you can start working out at any time. Even if you just have one or two pieces of equipment!
If you're looking for some extra guidance working out at home, but are on a limited budget, check out our programs. We offer online personal training for less than $1 per day. www.totalfitclub.com
---
More Content!
Subscribe to our YouTube Channel HERE!