Sometimes, we just need a little reminder to take care of ourselves. 
We all know the importance of self-care from time to time, but finding the energy and motivation to do so can be difficult. 
However, understanding what your needs are and taking care of them is essential if you want to maintain your health.
As such, we compiled a complete guide that explains the various types of self-care. It is our intention to educate and inspire you to take better care of yourself to feel your best.
Let's dive in.
As an Amazon Associate, I earn from qualifying purchases.
Continue reading for ways you can incorporate these different types of self-care elements into your life!
4 Types of Self-Care
Comprehensively caring for yourself will, by default, result in balanced physical and mental health, improved immunity, self-awareness, gratitude, and higher productivity. 
But to discuss self-care extensively, one must consider its most important subsets.
Physical
Emotional
Mental
Spiritual
---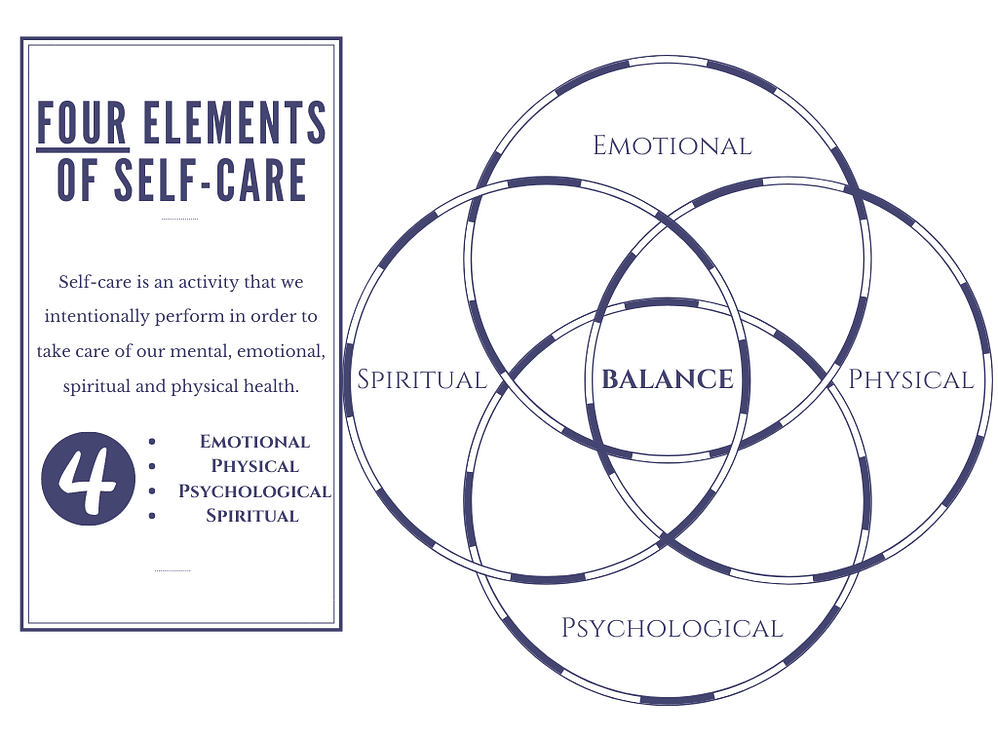 ---
1) Physical Self Care
When discussing self-care, the first type of self-care that immediately comes to mind is physical self-care.
Nowadays, people's lives are filled with unhealthy elements, like fast food, uncontrolled stress, lack of sleep, and hectic professional lives. Despite all our efforts to improve our lives, we have the opposite effect. 
Physical self-care is also about finding a balance, as mentioned earlier. 
Knowing what's good and bad for your physical health and drawing the line where necessary is important.
---
Take Rest
Your body is a biological machine, and it needs rest. When you stop giving it the rest, it needs to recharge, thinking nothing will happen, it will prove you wrong sooner than you can imagine.
Don't live in the bubble that you're young, and nothing will happen to you. It is important to know when your body can't take anymore and give it the rest it deserves after a long day. Instead of scrolling through social media platforms, give your mind, body, and eyes some rest and put that phone or laptop aside.
Maintain a proper sleep routine and get at least 7-8 hours of sleep every day is critical for all types of self-care. 
The Mastery of Sleep: Turn Your Sleep Into A Catalyst For Superior Health, Energy & Cognitive Abilities
---
Eat Healthy
You are what you eat, or your food becomes you. Put it whichever way you want, but the food you eat makes a huge impact on your health. It can make or break your body.
Make sure you're eating healthy and having a balanced diet, and not living off coffee and junk food, which has become common among youth and middle-aged people these days.
Don't make excuses that you don't get time to cook healthy or you're tired. You make time for what's important. Your health, body, and your food are important. Don't take your health for granted. 
---
Exercise Daily
When it comes to physical self-care, the discussion about exercise goes without saying. Exercising has become more important today than ever before because most people have a day job of sitting in front of their computers all day.
People hardly do any physical activity except for commuting to and from home and the office. Go for a jog every morning or workout at a local gym, or try to find time to do yoga at home.
There are many exercises you can do at home without needing any piece of specialized exercise equipment. Taking out half an hour to an hour of your time every day for this type of self-care can make a huge difference if you really mean yourself well. Don't overdo it too, and try to find a balance.