I don't know about you, but life sure seems to move at a crazy fast pace these days. When we are running out the door in the morning, it's easy to forego our cup of coffee or tea – simply because there's no time. Starting the day off on the WRONG foot… getting in my car empty-handed. Stumbling through my morning on no caffeine. Or swinging by the coffee stand on my way into work – spending an incredibly unnecessary $3 per day. That's until my best friend got me a Pure Zen Tea Tumbler Infuser as a Christmas present. I'm not exaggerating – it was a complete game-changer for me and the perfect gift for tea lovers like myself. So much so, I had to write about it to spread the word!
Pure Zen Tea Tumbler With Infuser
Perks of the Pure Zen Tea Tumbler with Infuser
This tea infuser tumbler is unlike any cup or mug I've had. It is durable, versatile, and the BEST way to prepare my daily cup of tea on the go. In fact, I retired my electric kettle once I started using the Pure Zen Tea Tumbler.
Durability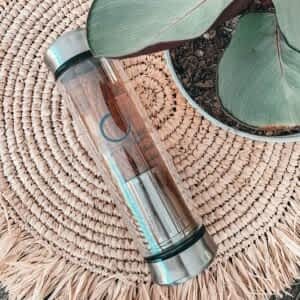 The glass bottle is made from borosilicate, which is a high-quality glass that doesn't crack under high temperatures. That means – extra durable!
What's greater than a borosilicate wall? Two borosilicate walls!
The tumbler's double lining traps the heat between the two sides. This keeps the beverage hot inside. And ensures the outer wall stays cool to the touch so it doesn't burn you or your loved ones.
Unlike some of Pure Zen's competitors that are made out of flimsy glass, this high-quality glass does NOT shatter under when hot contents are poured into the tumbler.
Great Design
This tumbler was manufactured with high-quality materials AND comes with a bottle and strainer.
High-Quality Material
It's important to be very careful with what we put into our bodies. Food and water containers should be carefully considered before purchasing.
The #1 recommended material for beverage containers is stainless steel.
Why?
Because stainless steel won't rust and leave sediments around the walls of the container that could make their way into your beverage. Glass is also a great and healthy option to safely store beverages.
Good news – the Pure Zen Tea with Tumbler Infuser is made of both glass and stainless steel. The reason stainless steel isn't used for the bottle's body is that it's a heat-conducting metal. So it wouldn't be suitable for hot drinks.
High-Performance Mesh Strainer
So, why would you even want to use a tumbler with an infuser? To maximize the delicious flavor of loose leaf tea and be able to carry it with you on the go.
To achieve this, you need a tumbler with a high-quality strainer that will keep your loose leaves together while the flavor is diffused.
Unlike tea bags and other methods, there won't be any residue left at all.
AND, both the lid and the infuser are made from food-grade stainless steel. This prevents rusting. and it also eliminates any chance of leakage.
Overall, this product is sustainable and  BPA free. And it combats musty smells too!
Versatile
As we mentioned, this tumbler has many uses. It retains heat, providing excellent temperature control! This keeps your cold drinks cold and your hot drinks hot.
The strainer can be easily removed, too. Remove the strainer to make room for pieces of fruit – expanding the versatility of your bottle!
Utilize this tumbler for all of your favorite beverages – not just tea!
Easy to Clean
One of my absolute favorite features – this tumbler is super easy to clean.
Place the glass in the dishwasher if you'd like, or hand washes. But NEVER place the lids and infuser in the dishwasher. Make sure to always hand wash the infuser and lid to ensure optimal functionality and years of use!
Safe
It is essential to consider safety when choosing a travel mug. Low-quality tumblers often have faulty lids. I'm happy to share that this tumbler has a lid that securely locks in place. This keeps the lid on tight so the boiling hot contents stay inside (instead of on your lap) 🙂
Additionally, the double walls of this tumbler make the outside of the bottle safe to touch at all times.
Stylish
This tumbler is both modern and practical. Making your pure zen tea tumbler fit for any occasion.
It also comes with a chic travel sleeve for easy mobility. Take it with you anywhere!
Key Highlights of the Pure Zen Tea Tumbler
To summarize, here are some of our favorite features of the Pure Zen Tea Tumbler with Infuser:
Borosilicate glass for high durability
Double walls for great heat retention and temperature control
No leaking or sweating
No residue from loose tea leaves
The sleeve adds an additional layer to help keep beverage warm
Super versatile and easy to carry
How to Brew Tea
First and foremost, ensure the lid is tightly sealed. Remember – we are dealing with boiling water and you don't want to burn yourself while making your favorite cup of tea!
Short Steeps
Open the top lid
Fill the glass bottle with hot water
Add the desired amount of your favorite loose tea leaves to the infuser
Attach the infuser to the top lid and close it again
Wait for 3-5 minutes then remove the infuser
Longer Infusions
Open bottom lid
Add loose tea leaves to the infuser
Attach the infuser to the bottom lid
Add hot water to the glass through the top lid
Remember, the Pure Zen Tea Tumbler is multifunctional!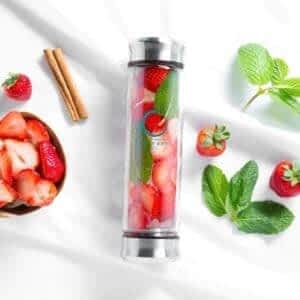 In addition to preparing loose leaf tea, you can use this tumbler for many types of beverages.  One of our favorite functions of the tea tumbler is using it as a fruit infuser water bottle! Check out some more ideas below.
Brew Your Favorite Drinks:
Iced drinks
Cold-brew coffee
Fruit water
Herbal tisanes
Tea and fruit water combo!
Our Takeaways
What we love most about the Pure Zen Tea tumbler with infuser is the versatility. The ability to brew your favorite loose leaf tea without wasting precious time in the morning is a game-changer. It's also a great travel mug for an on-the-go tea kettle with infuser!
We hope you enjoy this product as much as we do 🙂